Sense of Pride
Saw this pic on Duffer's blog: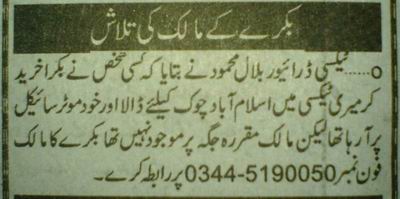 (Taxi driver Bilal Mehmood told that a person bought a goat and booked his taxi for going to Islamabad. He was following on his motorbike. At the decided place, the taxi driver couldn't find the person.  Owner of goat can plz contact at the given number)
And I felt so proud.
He said a loud No to corruption, innit?
Originally the Ad was published in Jang.